Registration and Hotel Accommodation Site
Registration and hotel accommodation site, managed by Art Tourist Co. Ltd., has been open.
Please visit the website via the following button.
Registration and Hotel Accommodation
Hotels in Kyoto are very busy in November – December. We highly recommend you to reserve
a hotel room as soon as possible. It seems some hotels are booked out around November.
Registration Fees
Regular
Student
Accompanying Person
Early Registration
(through Sept. 15 (JST))
JPY 35,000
JPY 15,000
Late Registration
JPY 45,000
JPY 20,000
Workshop Banquet
included
JPY 5,000
JPY 5,000
Early registration deadline is Sept. 15, 2015 (JST).
Accommodation
A limited number of single rooms have been reserved at the conference rate of 12,640-14,260 JPY per room per day with breakfast for the nights from Nov. 2 (Monday) to 5 (Thursday) at Karasuma Kyoto Hotel (からすま京都ホテル, URL), which is convenient to the Workshop venue and Kyoto Station, as well as to strolling around.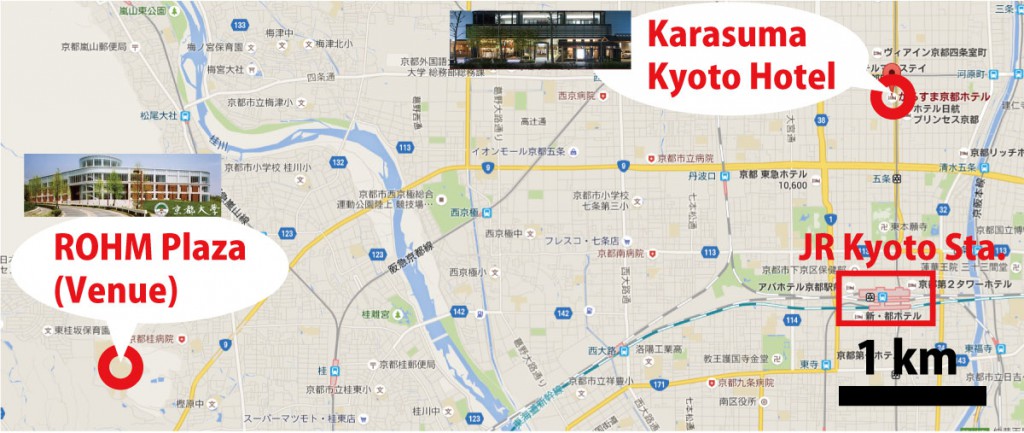 The reservation site will open soon and the rooms will be reserved on a first-come-first-served basis. November in Kyoto is a quite busy season, so please fix your trip schedule as early as possible. Especially for those who plan to stay in Kyoto on the weekend nights (Friday and Saturday), please book your rooms at the earliest convenience. We regret that we cannot arrange accommodation at Karasuma Kyoto Hotel for the weekend due to the limited availability.