Workshop Venue
IWGO will be held at ROHM Plaza in the Katsura Campus of Kyoto University.
Kyoto, an ancient capital of Japan, is one of the most popular destinations for tourists. With a long history of more than 1,200 years, the city is home to a wide variety of historical architecture encompassing temples, shrines, and castles, some of which are registered as "World Cultural Heritage". IWGO will be held during Kyoto's beautiful late fall season when you can enjoy colorful leaves (kouyou) on the mountains surrounding the city.
京都府京都市西京区京都大学桂 京都大学ローム記念館
Access to Venue
The Katsura Campus of Kyoto University is located in Kyoto City, which can be reached by train from Kansai International Airport in about 2 hours.
Access info presented by Kyoto University

Railways in Kansai Area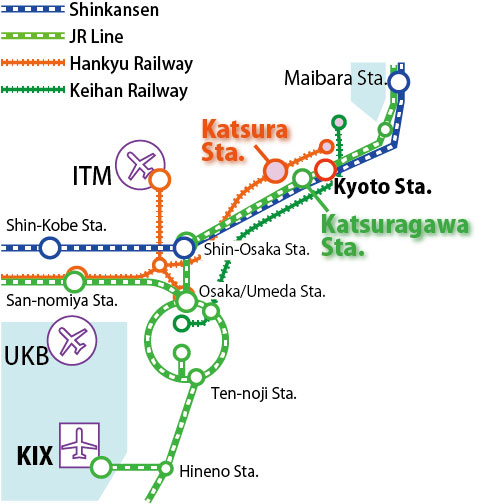 Venues
On the 1st day of this workshop, Nov. 3rd, welcome reception will be held in Karasuma Kyoto Hotel.
The main workshop will be held in Kyoto University Rohm Plaza, Katsura Campus of Kyoto University.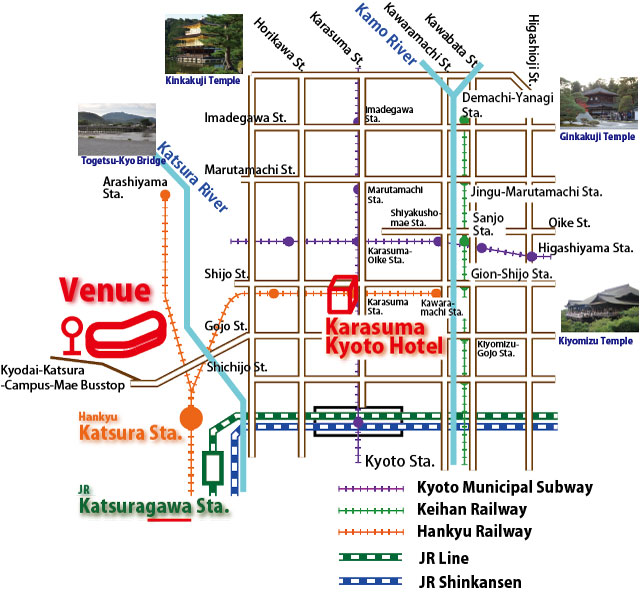 Access from Hankyu Katsura Station
Access info from Hankyu Katsura Station (NOT JR Katsura-gawa Station).
Go out the station gate and turn left to the "West Exit (西出口)". You can see the bus terminal and wait the bus at the "No.1" bus stop named "Katsura-eki Nishi Guchi (桂駅西口)". It takes about 16 min from the bus stop to "Kyodai Katsura Campus Mae (京大桂キャンパス前)" bus stop. The fee is 240 yen.
Photos
Venue
Arashiyama, March – May